Every bride knows that the best part of planning a wedding is getting
to go shopping for your gorgeous gown and I was no exception! Probably
a month after I got engaged, I started shopping with my fabulous
girlfriends. I knew I was ridiculous, but I didn't care. I love shopping,
I love fashion, so this was a dream come true. I tried on so many
ridiculously beautiful gowns (and ridiculously horrible ones) before
choosing "the one" at Chic Parisien on Miracle Mile, a very
popular wedding dress destination.

As I was walking around the store, the saleswoman kept grabbing all these
dresses she thought fit "my style," but as I passed by another bride
looking at herself in the mirror, I couldn't tear my eyes away from her
beautiful gown.
"I want to try on that one."

And the rest as they say, was history.




She was Monique Lhuillier's Nadia and she was stunning. I felt like a
princess yet still like me, which fit the feel I wanted to acheive.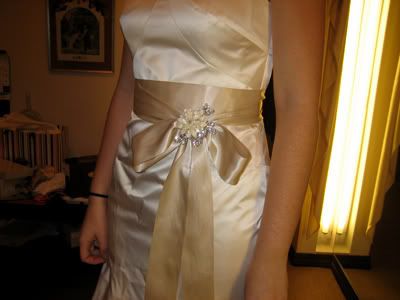 I added an oatmeal colored sash and a gorgeous crystal and pearl brooch,
which was a gift from my mother to complete the outfit.

And finally to complete the entire bridal look, I wanted a loose and messy
updo with dramatic eyes and pale lips. These were my inspiration photos:




The final look the day of the wedding couldn't have come together more
perfectly had I tried! My hairdresser is always extremely talented, but I
felt like that day she had sprinkled some special fairy dust on those magic
hands of hers! My hair was truly a work of art.




And my gown was more gorgeous than I had remembered. Unfortunately, I have no real
bridal portraits to speak of from my wedding day, which is a bummer, but my hubs
reminds me every day of how beautiful I looked on November 17th and every day
that has followed.